Have you ever wondered...

What it would be like to have students creating their own products in your classroom?
How to boost student engagement and achievement by using student choice?
Why we spend so much time in school telling students what to learn, instead of giving them opportunities to follow their passions and learn with a purpose?
If you've ever thought those things, join the club! These were my exact thoughts in 2011 when I was teaching English Language Arts. That winter break I stumbled on an idea and project called Genius Hour.
The premise was simple: Give students time in class to be curious learners and creators. They would learn what interested them, and create a product to share with the world.
This was inspired from Google's own 20% time, where their employees learned and created based on their passions.
Genius Hour changed my career as a teacher, and it changed my mindset on what was possible in the classroom. I had a room full of students making their own video games, learning sign-language, designing buildings, starting businesses, and changing the world with their innovative projects.
It became my mission since that first project to share Genius Hour every where possible, and I've joined with other teachers to lead the charge through videos, articles, websites, books and much more. Watch this video for a quick look at what Genius Hour is all about.
A Quick Overview of Genius Hour
Want to Do Genius Hour With Your Students?
I'm hoping you do! Over the years I've traveled the country talking to teachers who are excited about starting Genius Hour in their classroom. I've written blog posts, articles, and published a book on the topic.
Time and time again I'd hear the same questions, same hesitations, and same thoughts that teachers everywhere have before jumping into Genius Hour.
This past year I decided to create a comprehensive course that literally walks you step-by-step through Genius Hour. It's called the Genius Hour Master Course, and 2000+ students are already loving how practical the resources are!
In this course I share EVERYTHING:
70 videos walking you through Genius Hour step-by-step
Lesson Plans and Unit Plans separated for Elementary, Middle School, and High School teachers
The Genius Hour Journal which takes your students through Genius Hour Start to Finish
PowerPoints for Day 1 and Day 2 to get started with your students
Resources, PDFs, and all kinds of strategies to make Genius Hour a success
Rubrics and grading templates for assessing this creative work
Are you a teacher thinking about doing Genius Hour for the first time?
We've got tons of resources for teachers completely new to Genius Hour, and walk you through the entire process step-by-step. We've also got a Private Facebook group with 600+ members devoted to talking about Genius Hour and sharing what works and what doesn't. They love supporting each other along the way!
Do you want to step up Genius Hour the second time around?

If you are anything like me, the first time doing Genius Hour was as much as learning experience for us (the teachers) as it was for the students! I can't tell you how much I learned in the first time, and how much I improved the second time around. That's partially why I made this course, to help those just starting out, but also to keep making it better for those that have already done Genius Hour with their students. We've got many veteran Genius Hour teachers in this course excited about the community and resources to step it up this time around!
Are you planning on rolling out Genius Hour to your whole school or a number of teachers on your staff?

As an instructional coach, and now as an administrator, I know how hard it can be sometimes to have teachers feel comfortable taking a risk. This course has helped numerous schools and districts roll out Genius Hour on a bigger scale. We are hearing success stories from many that took the plunge as an entire school!
About Your Teacher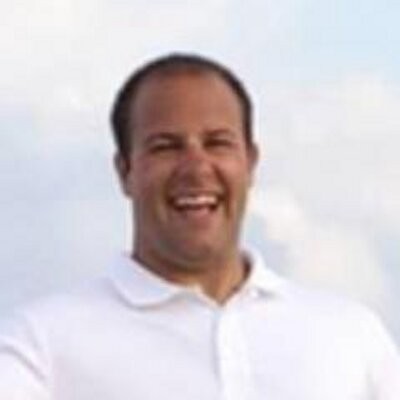 A.J. Juliani is a former Middle School and High School English teacher, K-12 Technology Staff Developer, and current Director of Innovation for a public school district. A.J. has written extensively on Genius Hour including his book, Inquiry & Innovation in the Classroom: Using Genius Hour, 20% Time, and PBL to Drive Student Success. A.J. is also the best-selling author of LAUNCH, a national speaker on innovation, and an award winning blogger at Ajjuliani.com.
See How Genius Hour is Impacting Real Teachers and Students.
Genius Hour Master Course Member, Sunday Crider, shared this story inside our private Facebook group for members:
Today was our Friday Genius Hour (Passion Projects) in all my classes.
Y'all... I got chill bumps. Long post ahead.
I showed the video "The Millennial Rebuttal", and we discussed how we can use our passions to make an impact. I had asked them all to make a list of the things they liked (their passions). And then we went through the exercise of how they could take their passion and use it for purpose. In each case, I played the antagonist so that they would dig deeper.
"I like to sew"
"I like computers"
"I like tattooing"
My response was "So?! Let's dig deeper!"
They were to take each passion, identify a problem, and then come up with a purpose. That's where the magic happened.
"I like to sew." "So?!" I replied. "I like to sew," she said. "And I know that when people go they chemo, they have to sit in cold rooms while they do it. I like to sew and I'd like to make blankets for cancer patients."
"I like computers." "So?!?" I replied. "I like computers and I see a need to improve how teachers and students communicate. I'd like to create an app that allows teachers to create a calendar and upload assignments so that kids could easily access them. "
"I like tattoos." "Really?" I said. We had discussed how women that had to have their breasts removed due to cancer often needed tattooing to help improve the look of the reconstructed version. That had caught her interest. "I like tattoos, and I want to be a tattoo artist. But I want to help those that are scarred. I have friends that self-harm and are left with visible scars later in life. I would like to be the one that covers those with something beautiful."
This kind of stuff happened all morning. Profound stuff.
Last class ended at lunch. Student comes up to me and says, "I need to talk to you. I want you to thank you for doing this. I've struggled for a way to feel significant and I think I've found my opportunity. Thank you for doing this."
I almost started bawling.
You wonder why teachers teach? This. This. A thousand times THIS.
Here's what Genius Hour Master Course Members are saying inside our Private Facebook group: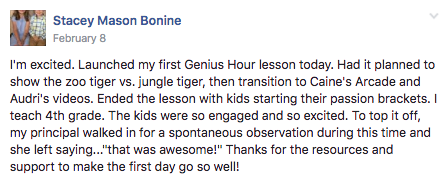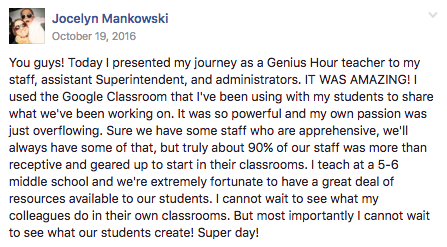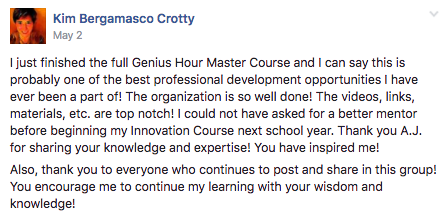 Course Overview: Videos, Lessons, and Resources
Why Genius Hour? (Module 1)
Available in days
days after you enroll
Preparing For Genius Hour (Module 2)
Available in days
days after you enroll
Frequently Asked Questions
When does the course start and finish?
The course starts now and never ends! It is a completely self-paced online course - you decide when you start and when you finish.
How long do I have access to the course?
How does lifetime access sound? After enrolling, you have unlimited access to this course for as long as you like - across any and all devices you own.
What if I am unhappy with the course?
We would never want you to be unhappy! If you are unsatisfied with your purchase, contact us in the first 30 days and we will give you a full refund.
This course is closed for enrollment.